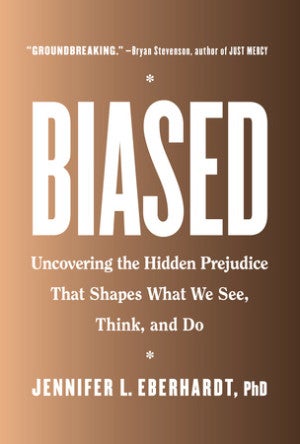 Biased
Uncovering the Hidden Prejudice That Shapes What We See, Think, and Do
We do not have to be racist to be biased. Leading with scientific and investigative expertise, and informed by personal experience, Dr. Jennifer Eberhardt offers a balanced exploration of implicit racial bias. Her groundbreaking work reveals how ingrained stereotypes can impact on our visual perception, attention, memory and behavior—often despite our better knowledge and best intentions.
Eberhardt's extensive research occurs not just in the laboratory but in police departments, courtrooms, prisons, boardrooms, and on the street. IBy weaving interviews with personal anecdotes from her own life, Eberhardt shows how implicit bias can thoroughly infiltrate media, education, and business practices. Biased is a crucial reminder that stereotyping and racial profiling are human problems—issues we can all make efforts to solve.
Available as hardcover, audiobook, or eBook.
352 pages; March 26, 2019