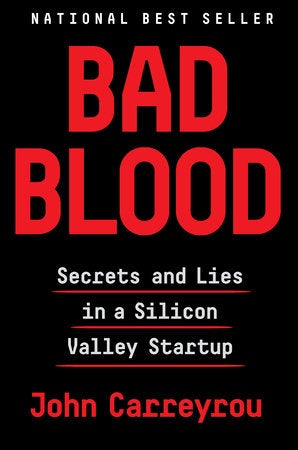 Bad Blood
Secrets and Lies in a Silicon Valley Startup
In his New York Times bestselling book Bad Blood, John Carreyrou shares the full inside story of the breathtaking rise and shocking collapse of the one-time multi-billion-dollar Silicon Valley company that rose to fame with the promise of blood-testing technology that never existed. In 2014, Theranos founder and CEO Elizabeth Holmes was widely seen as the female Steve Jobs: a brilliant Stanford dropout whose startup "unicorn" promised to revolutionize the medical industry with a machine that would make blood testing significantly faster and easier. Backed by investors such as Larry Ellison and Tim Draper, Theranos sold shares in a fundraising round that valued the company at more than $9 billion, putting Holmes's worth at an estimated $4.7 billion. There was just one problem: The technology didn't work.
With meticulously researched and detailed reporting, Carreyrou provides insight into Theranos's intensely charismatic, secretive, and ambitious founder, and the very real harm that resulted from her false claims. In his lectures, Carreyrou tells the riveting story of the biggest corporate fraud since Enron, and exposes the ecosystem of investors, journalists, and regulators that allowed it to flourish.
Available as hardcover, paperback, audiobook, or eBook.
352 pages; May 21, 2018