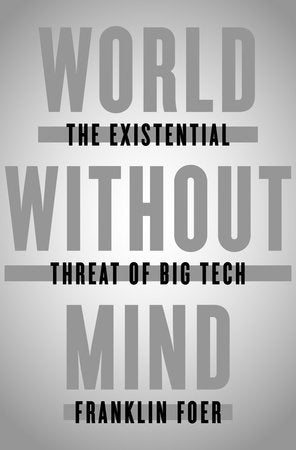 World Without Mind
The Existential Threat of Big Tech
A New York Times Book Review Notable Book of 2017
Named one of the best books of the year by The New York Times • LA Times • NPR
Franklin Foer reveals the existential threat posed by big tech, and in his brilliant polemic gives us the toolkit to fight their pervasive influence.
Elegantly tracing the intellectual history of computer science—from Descartes and the Enlightenment to Alan Turing to Stuart Brand and the hippie origins of today's Silicon Valley—Foer exposes the dark underpinnings of our most idealistic dreams for technology. By reclaiming our private authority over how we intellectually engage with the world, we have the power to stem the tide.
Available as hardcover, eBook, and unabridged audiobook.
 368 pages; April 8, 2014